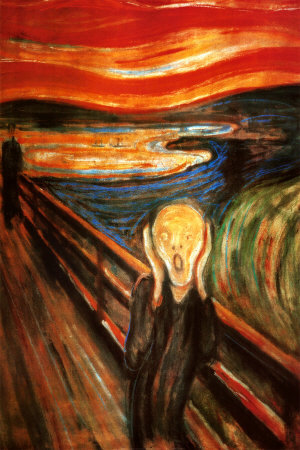 February 21, 2012, 8:15 am
2012 The Munch Museum/The Munch-Ellingsen Group/Artists Rights Society (ARS), NYThis version of Edvard Munch's "The Scream," dated 1895, will be up for sale at Sotheby's in May.
It has adorned everything from mugs and t-shirts to key chains, anti-George Bush campaign buttons, inflatable dolls and iPad covers. Now a version of Edvard Munch's celebrated painting "The Scream'' will be up for sale at Sotheby's in New York on May 2nd, the auction house announced on Tuesday morning. Officials there estimate it could bring more than $80 million.
Munch made four versions of the composition, which has become the embodiment of angst and existential dread. Three are in Norwegian museums and this one, from 1895, is the only "Scream" still in private hands. It is being sold by Petter Olsen, a Norwegian businessman and shipping heir whose father, Thomas, was a friend, neighbor and patron of the artist.
"I have lived with this painting my entire life,'' said Mr. Olsen in a telephone interview, explaining that the painting had hung in the dining room of his family's home in Oslo along with other Munch works including a portrait of Mr. Olsen's mother from 1932. He has decided to sell the prized canvas because to own an artwork of this value and art historical import is "a huge responsibility,'' he said. Mr. Olsen is also trying to raise money to build a cultural center at Nedre Ramme, some 25 miles south of Oslo, on the grounds where Munch lived from 1910 until his death in 1944. The center is to include an art gallery, where he intends to show a series of thematic summer exhibitions in collaboration with the Oslo Museum; these shows will include works from his vast collection of paintings by Munch. He also plans to restore Munch's home and studio, which will also be open to the public.
Besides being one of the most recognizable images in art history, "The Scream'' is also one of the most often stolen. Versions of it have been taken twice, first in 1994, when two thieves entered the National Gallery of Norway and fled with an 1893 "Scream" (it was recovered unharmed later that year), and then in 2004, when masked gunmen stole the 1910 version as well as Munch's "Madonna" from the Munch Museum, also in Oslo (both works were recovered two years later). Simon Shaw, who heads Sotheby's Impressionist and modern art department in New York, said the auction house plans to take "extra precautions" when it puts the painting on view at Sotheby's in London on April 13, and again in New York on April 27.
Mr. Shaw said this version of the painting is different from the others in several ways. It is the most colorful of the four, and the only version whose original frame was hand-painted by the artist with a poem describing a walk at sunset ("I felt a whiff of Melancholy — I stood / Still, deathly tired") that inspired the painting. It is also the only "Scream" in which one of the two figures in the background turns to look outward onto the cityscape. Mr. Shaw believes this "Scream" has only been on view once in the United States, at the National Gallery of Art in Washington the early 1980s.
"The Scream is unique,'' he said in a telephone interview. "Everybody knows it, but paradoxically few people have ever really seen it in person. When you stand in front of the painting it's really quite scary. It has the power to shock.''
In the 1930s Munch's work was declared degenerate by the Nazis, who stripped museums across Germany of his paintings, drawings and prints. Mr. Olsen said his father was instrumental in rescuing 74 of these artworks by striking a deal with the German government in 1937.
Wanting to be free to fight the Germans, he said, the family left Norway and moved to New York. But before they did, Mr. Olsen said his father took his own Munch collection — about 30 works, mostly paintings along with a few drawings and prints — and hid them in a neighbor's hay barn in the mountains of central Norway. "The paintings and the barn survived the war,'' Mr. Olsen said.
In the years since, in addition to a vast array of kitsch objects that have been emblazoned with the "The Scream," it has also been embraced by contemporary artists like Warhol, who produced a series of paintings based on the image in the early 1980s.
Recently, Munch has been the subject of numerous museum exhibitions. In 2005 the Royal Academy in London held "Edvard Munch: By Himself,'' and there has been a major Munch show nearly every year since, including at the Museum of Modern Art in New York in 2006 and the Art Institute of Chicago in 2009. A traveling show, "Edvard Munch: The Modern Eye,'' closed at the Pompidou Center in Paris last month and is now on view at the Schirn Art Gallery in Frankfurt, Germany. A large retrospective planned by two museums in Oslo, the National Museum of Art and the Munch Museum, timed to the 150th anniversary of Munch's birth, are scheduled for June, 2013.
Mr. Olsen said the proliferation of these exhibitions also made him certain that the time is right to sell his "Scream,'' adding that he hopes it will find a good home.
For the kinds of bidders who are behind the auction market's current high prices — extremely rich collectors who gravitate toward blue-chip artists and recognizable images — "The Scream" will likely seem an irresistible trophy.
"It's a destination picture,'' said Mr. Shaw. "Whether the buyer is an institution or a private collector, it's a defining painting. It's hard to think of another image that would anchor a collection in quite the same way
.''